Restaurant Enztal-Treff
Guests of Camping In der Enz can visit the adjacent Gaststästte Enztal Treff. The Gaststätte is in use as a snackbar from May through September.
.
A snack and a drink or just a place to read a book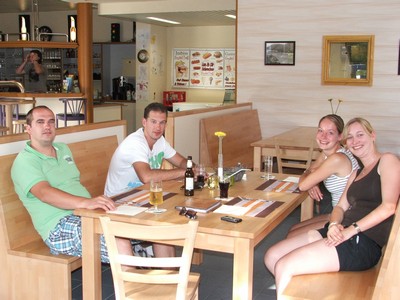 During your stay, Enztal Treff offers you the opportunity to enjoy a tasty snack and a drink. If it is a hamburger with french fries or a Dutch 'Frikandel Speciaal' you can eat it in the Enztal Treff or take it with you to your tent or caravan.

Enztal Treff is located between the pool Aqua Fun and the campsite In der Enz. The fascilities are open from May til September.
Gaststätte Enztal Treff:
In der Enz
D-54673 Neuerburg
For questions, please contact Camping In der Enz
Telephone: 0049(0)6564-2660
Email: This email address is being protected from spambots. You need JavaScript enabled to view it.