Directions
Using GPS
To find Camping Park in der Enz, you can use your navigation system. The data for the site is: GPS: N 50.02.891 E 6.27.195. (or: In der Enz 19 - Neuerburg; then follow the signs to the campsite)
Using a map
If you are coming from the A42 (the road to St. Vith Wittlich), the drive to Camping In der Enz is the most easy and comfortable when you take exit 3 (Bleialf). Both from Belgium and from the Moselle region, this is the 2nd exit Neuerburg. Then follow the signs for Neuerburg.
Route within Neuerburg
When you arrive in Neuerburg, follow the signs to the Freizeit u. - Sportanlage, showing in blue the icon of a campsite.
Important
The route through Waxweiler at exit 4 on the A 42 (Prüm) is beautiful but it demands special effort when driving a caravan or camper.
WE WISH YOU A HAPPY HOLIDAY AND GOOD TRIP TO CAMPING IN DER ENZ.
Travel plan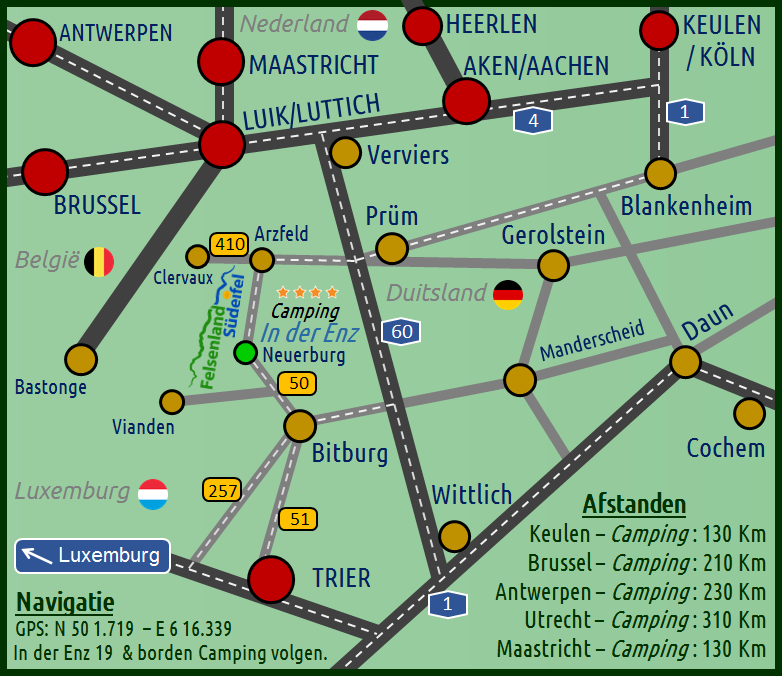 Route signs in Neuerburg
Entrance to the camping