Water fun at Camping In der Enz
Even without a swimming pool, there is plenty of water fun to be had at Camping In der Enz. As you can see on the campsite map, the river Enz runs right through the campsite. The Enz is a quietly rippling river with a low water level, making it safe to play in. There are even guests who put their chair in the river to cool off.
A safe playground is of course very important for the children. Our playground will be in a more central location on the campsite with spacious camping pitches around it, so that parents can keep an eye on their children playing.
NEW as of 2023: water -playground on the campsite
As an extension of the playground, there will be a new water playground, where the smaller children can also play safely with water and close to the camping pitches. We are convinced that we offer a good package of cooling water fun for our guests with:
Convenient use of other swimming pools in the vicinity of the campsite.
Having fun playing together in a cooling river at the campsite.
Safe water fun in the new water playground for our youngest guests.
Swimming pool Aqua-fun adjacent to the campsite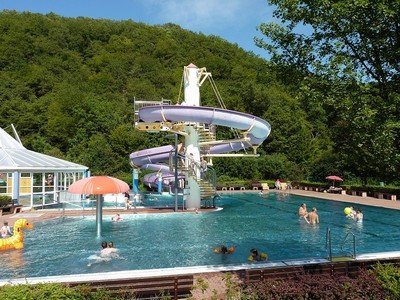 The expectation is, that the swimming pool next to the campsite will open again in May 2023.
What to do in the Eifel
There are a lot of other things that you can do in the Eifel. Things that are not too far from Camping In der Enz, like a trip to:
Eifelpark Gondorf, a nice amusement park with a small zoo and water fun.
Germany's oldest city, Trier, with lots of Roman remains and lovely terraces and nice shops
Dinosaurierpark Teufelsschlucht, where you are met by life size dinosaurs in a beautiful scenery.
Canoeing on the Our, the border river with Luxembourg.
One of the other swimming pools not far from the campsite in the South-Eifel.
Please check our website for many more ideas for trips in the Eifel.
We hope that we have convinced you and that we can welcome you on our campsite this Summer.
Aart Nugteren & Maria Frensen